Tune is Musa's bonded pixie, and the Pixie of Manners. She and Musa often butt heads, due to having contrasting personalities. Tune believes in being lady-like, a which contrasts with her bonded fairy, Musa, who is famous for her outgoing and tomboyish behaviour. In spite of Tune's nagging and correcting of Musa; Tune and Musa make the perfect pair, each lessening each others' extreme qualities.
CHARACTER INFORMATION Edit
---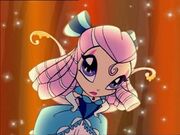 Voiced By
Letizia Ciampa (Original/Italian)
Michal Friedman (4Kids) (deceased)
Lara Jill Miller (Nickelodeon)
Liz Macrae (RAI English and PopPixie)
Eva Padoan (Original/Italian PopPixie)
---
Species
Pixies
---
Powers and Abilities
Her Voice
---
Bonded Fairy
Musa (Fairy of Music)
---
Affiliation(s)
---
Ad blocker interference detected!
Wikia is a free-to-use site that makes money from advertising. We have a modified experience for viewers using ad blockers

Wikia is not accessible if you've made further modifications. Remove the custom ad blocker rule(s) and the page will load as expected.