Digit is the Pixie of Nanotechnology. She is Tecna's bonded pixie. She is extremely immaculate, logical, precise and mathematical and shows little emotion. She is an obvious match for Tecna and the two of them have an extremely close relationship. They are perfect for challenging each others' minds (and videogame skills), discussing similar interests and they both speak in a technical manner.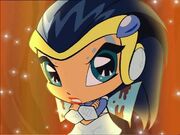 CHARACTER INFORMATION Edit
---
Voiced By
Gemma Donati (Original/Italian)
Lisa Ortiz (4kids)
Georgina Cordova (Nickelodeon)
---
Species
Pixies
---
Powers and Abilities
Nanotechnology
---
Bonded Fairy
Tecna (Fairy of Technology)
---
Affiliation(s)
---
Ad blocker interference detected!
Wikia is a free-to-use site that makes money from advertising. We have a modified experience for viewers using ad blockers

Wikia is not accessible if you've made further modifications. Remove the custom ad blocker rule(s) and the page will load as expected.