Chatta is the Pixie of Gossip and is Flora's bonded pixie. In Season 2, Chatta helped Flora express her feelings to Helia, which resulted to Flora earning her Charmix. Chatta usually translates Piff's baby talk. She uses her talkative ways to attack and defend her self against enemies.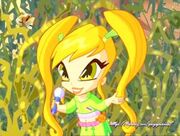 CHARACTER INFORMATION Edit
---
Voiced By
Megan Memory (English)
Perla Liberatori (Original/Italian PopPixie)
Lara J. Miller (Nickelodeon)
---
Species
Pixies
---
Powers and Abilities
Super hearing.
---
Bonded Fairy
Flora (Fairy of Nature)
---
Affiliation(s)
---
Ad blocker interference detected!
Wikia is a free-to-use site that makes money from advertising. We have a modified experience for viewers using ad blockers

Wikia is not accessible if you've made further modifications. Remove the custom ad blocker rule(s) and the page will load as expected.